Day 2 = Saturday June 2nd
Up at the crack of early and back down to Dover. This time the traffic was much worse. We drove past the track and had a real sit-down breakfast at a fine family owned establishment with a subtle racing theme. The staff had on their favorite drivers t-shirts and coffee was a welcome beverage. I had a Belgian waffle with bacon and he had steak and eggs, hash browns and toast. We went to get to the track and got into the wrong lane which took us not to where we had parked the day before but to RV parking. The mud made it look a lot like Woodstock, or Watkins Glen in 1996. Another hour or so later after driving around and trying to show any official looking types our Media Parking placard, we were finally directed by the same guy who had told us to turn around a half hour before to proceed around the back to the right parking lot, on grass. Soaking wet grass with a lot of mud underneath. I managed to get the car parked next to a bunch of SUV's and pick-up trucks.
Another walk to the Infield and more sightings.
Ex-Champion turned Fox TV commentator Darryl Waltrip in a golf cart.
#1 Pennzoil driver Steve Park in a golf cart.
#18 Interstate Batteries Crew Chief Jimmy Makar walking around, seemingly in a daze, maybe looking for an empty golf cart?

I resisted the rookie fan temptation to ask for autographs or get in their faces to take pictures and played it real cool, settling for nodding, flashing the peace sign or the usual thumbs up. As we walked the sound of the end of the truck race echoed inside the one mile track. It was very loud, almost as loud as the jet engine track dryers they use to dry the track. Actual jet engines mounted on the back of pick-up trucks with the hot exhaust blasted down to dry the concrete of the Monster Mile, aka White Lightning due the light color of the concrete surface.
Then we saw Mr. Excitment himself, Pennsylvania native #26 K-Mart driver Jimmy Spencer. He also drives in the Busch Grand National series for Yellow Freight.
We met Monte again and had some refreshments before walking to the roof of the Media Center to watch the end of the truck race. After #2 ASE driver Scott Riggs won the rain delayed race in a Dodge, I decided to walk into Victory Lane for some close-up pictures during the trophy ceremony.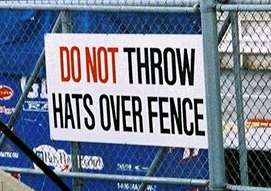 After that amazing scene, columnist Monte Dutton had a little talk with the winner as seen here: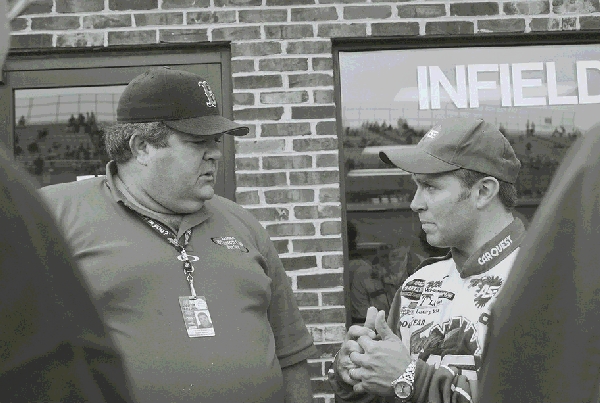 It began to rain some more and some folks thought that the Busch Grand National race would not happen, but they ended up drying the track off and getting it started, after driver introductions.
I never knew some of those guys were so short! Driver of the #2 AC-Delco car, Kevin Harvick got a lot of applause as he had to replace Dale Earnhardt in the renumbered to #29 (#3) car after the tragedy at Daytona in February. Here is is either eating an Oreo or more likely chomping off the cap of a Sharpie marker pen so he can sign stuff for the fans.
I took a look at the souvenir trailer for Dale Earnhardt, many fans signed it and offered condolences...

After they fired them up and got started we wasted some time looking cool at the Media Center before we took a walk to the truck garage area where the teams were packing up their equipment.
We saw the #88 UPS Crew Chief Todd Parrott hanging out in the truck garage area chatting up some friends.
Down a little further we saw the hauler for the Coy Gibbs truck team and who should get out of the back and make his way to a golf cart he drove himself, but former Washington Redskins "Coach" Joe Gibbs in the flesh!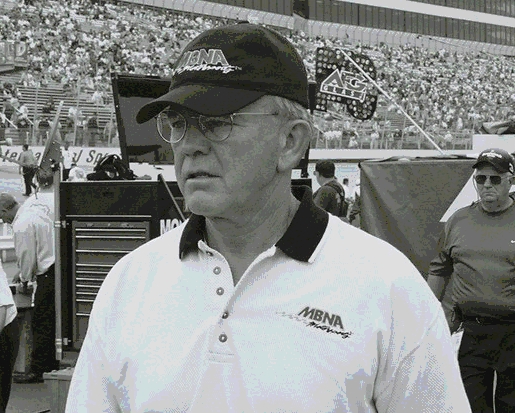 After reviving my star-struck father (he's a #20 and #18 fan, both owned by Coach) we kept walking around until we got bored and as the Busch race went on we walked back to the bridge connecting the infield area with the outside of the track and grandstands. We saw #4 Kodak driver Bobby Hamilton walking around intent on finding something or another (or just avoiding the press). Maybe he looking for his son Bobby Hamilton Jr. out on the track who drives the #26 Dr. Pepper car in Busch Grand National...
Why does Dr. Pepper come in a bottle? Don't ask - Don't tell!
We took a look at the pits as the Busch race was going on and saw a familiar character in his trademark hat, multi-team owner Jack Roush in the pit of the #60 Grainger car driven by Greg Biffle.
Fox Sports had set up a huge trailer and were grilling burgers and hot dogs for their employees, I almost tricked my father into going up to them to see if he could buy some grub off of them! "Sure, that's a concession stand! (ha-ha)" They were using the same Thermos brand BBQ grill my father has at home... TV commentator and "Totally NASCAR" host Steve Byrnes was spotted trying not to get his picture taken.
A long line of cables connected the trailer to the "Hollywood Hotel" the portable broadcast booth on a scissor lift parked in the infield... "NO VACANCY" read the neon sign in their tinted window.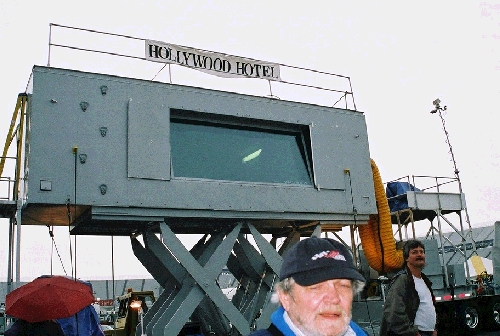 "Room service? Have you seen any coffee around here?"
The banter between the guys in the booth and the guys on the pit road has been pretty funny this year after FOX took over TV duties from longtime networks TNN and ESPN. The "real men" of course are sweating it out on pit road smelling the rubber and exhaust unlike the "softies" up in the Hotel. FOX TV commentator Dick Berggren and his cadre of assistants including camera crew and sound engineers scurried around and I got to see them make a raid on the Hilton as they stealthily climbed up the stairs and broke in on Jeff Hammond, Darryl Waltrip and Larry McReynolds. Matt Yokum was also seen lurking about, here with Dick Berggren.
We thought we had a Joey Daytona sighting but were not completely sure... he's the world famous drag racer/teen idol/rock singer who likes to attend public events incognito so he isn't mobbed by fans! There was a burly bodyguard type next to him so who knows for sure.
Here they check the tire pressure of Harvick's #2 car.
On the way to the bridge we were almost run over on the horse track by the silent electric golf cart of #00 driver Buckshot Jones, even though he was not driving it himself!
While hanging around the bridge we got some great pictures as it looked like the cars could fly right off the track and over the flimsy chain-link fence!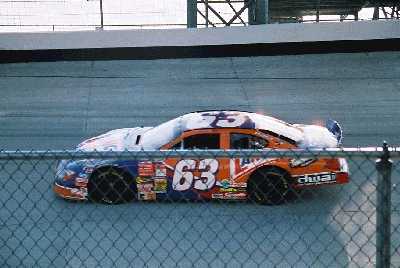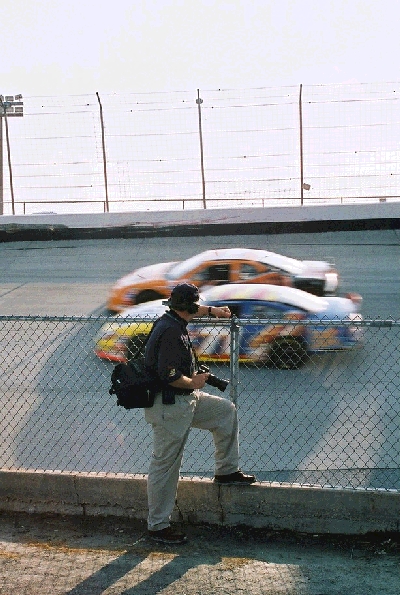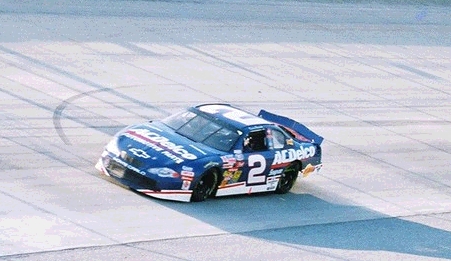 My feet were again covered in mud, the gray grit of the horse track of Dover Downs, as they do more than race cars there, they also race horses on a slightly smaller dirt track inside the paved one. We found a pile of horse shoes and wondered if they had been lost while racing.
We crossed the bridge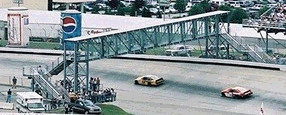 and went up in the grandstands of Turn 1 to watch the long delayed Winston Cup practice, aka Happy Hour. Few were "happy" since the Qualifying had been canceled and the drivers would have to line up according to points. This system may not be the most fair for all, as those low in the points and without Provisional starting positions went home, causing a marginal team to go down further in the points, thereby making it harder for them to ever catch-up! We took some more pictures and steeped ourselves in the racing sub-culture breeding like rabbits in the now steamy hot aluminum grandstands. Beer bellies, tattoos, no shirts, no teeth, no shoes, tobacco chewing, etc... Which made me realize I had traveled a very long way to sit right next to the same kind of derelicts that hang out in front of the coffee shop down the street from the Methadone clinic in my neighborhood!
Much like the short track racer who steps up to the big leagues of stock car racing rose from obscurity to be a scrutinized public figure the fans all want a piece of, the feelings are mixed. He wants to race, not be cornered by vultures. Yet they pay the bills... so what to do? Suffer The Fools Gladly.
There is an interesting sociological phenomenon here... The same way that "familiarity breeds contempt", I realized that there is something to be said for staying at home and watching the race on television. Besides missing the smells and other varieties of "atmosphere" of a live race, I missed more the in-car camera shots, the speed shots of the camera on the outside wall, using my own bathroom during commercials, tuning around during commercials, running to the corner store where they have the right kind of beef jerky and much more. Once a year or so is fine, but I doubt if I could stomach touring with the series all year long!
Time to leave and we walked back to the car which due to the torrential downpours had sunk into the mud!
I drove The Heavy Chevy 1994 Impala SS out in low gear only to get bogged down further within twenty feet of the road out of the Muck.
Luckily a AAA pick-up truck passed by and when we jumped up and down, beeping and waving as if lost on a desert island they came and pushed us out of the Dover Muck for free. That after a helpful guy in a Ford pick-up offered to do it for $20. Others had similar troubles and it looked sort of like this:
Traffic was backed up at the toll booths and I made a mistake and got in the short lane which was going SOUTH, away from where our wonderful sanitary motel was and it took us back to the center of Dover, the lovely state capitol, although everyone knows it should be Wilmington! Good thing I made the "mistake" and learned how to get off at the next exit and turn around and head back North as it would help us out the very next day...
We again ran into another jerk with Jersey plates who must have thought he was an actual race car driver the way he weaved in and out of the lanes of traffic with his blinker-less merge method. His haste was all for naught as we caught up to him at a stop light and all I could do was shake my head at his stressful antics. He tailgated some locals driving an import and they slowed down, allowing us to easily pass him in the right lane with contented smiles.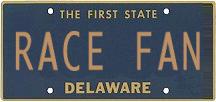 We got back to New Castle and had Italian food. We got to watch some of the truck race on TV which we had already seen that morning live from the press area. The combination of mud and grass on my car made for a charming rustic thatch or adobe brick effect when it dried off.
I tried to sleep but the race fans were out on the balcony of the motel drinking shirt-less and tattooed until at least midnight. I saw some folks eating alfresco, as they had brought the tables and chairs out of their room and set up shop on the balcony walkway. I went to the store but only after asking them if they needed anything, which they did... ICE! As Sam Breakstone would say, "Where's my ice?!" If ever there was a time that strangers were just friends you haven't met yet, that was it. Turns out they were from Oswego New York and we had a long talk about Watkins Glen, the Yankees, the state budget and taxes.